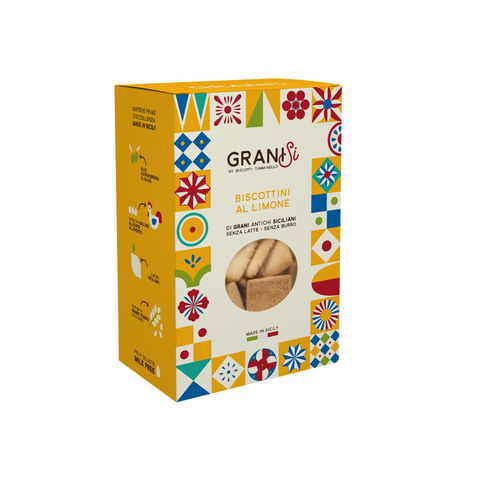 Tumminello
Tumminello - Lemon Cookies (210g)
Simply Sicilian lemons, ancient grains, fresh eggs and brown sugar, give life to delicate cookies. Specifically formulated for those who are intolerant to dairy products and derivatives.
Ideal to be enjoyed at any time of the day. All our cookies are handcrafted and include only fresh and natural ingredients.
Ingredients: Soft wheat flour type 1 (Sicilian variety) - 50,5%; brown sugar, fresh free range eggs 11%, candied lemon peel (lemon peel, glucose -fructose syrup, sugar) - 8%, extra virgin olive oil - 6%, sunflower oil, potato starch, raising agent: disodium diphosphate, sodium bicarbonate, salt, flavourings. May contain sesame, soy, almond, and pistachio.