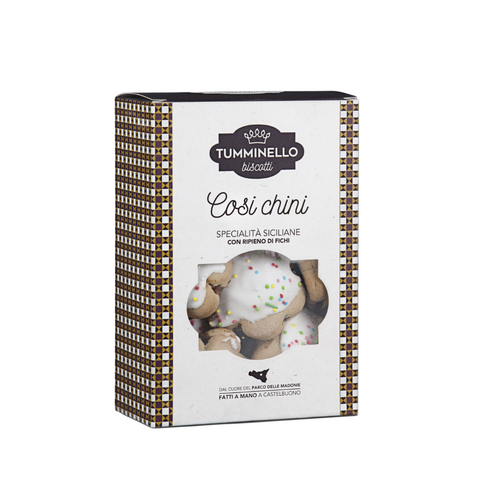 Tumminello
Tumminello - Cosi Chini (320g)
The Cosi Chini are typical sweets of Castelbuono, Sicily. Their name means "full things". These cookies covered with icing and sugar sprinkles can be enjoyed all year round as a delicious dessert, in the afternoon accompanied by tea, or simply as a delicious interlude during the day. The filling of coffee, dried figs, sultanas, chocolate, and apricot jam release a riot of flavors.
Each cookie is individually wrapped and presented as a small dessert.
All our cookies are handcrafted and include only fresh ingredients.
Ingredients: wheat flour, butter, sugar, fresh eggs, raising agents: disodium diphosphate, sodium bicarbonate; salt, flavourings. Filling: dried figs 26% (equal to 10% of the total), sultanas, Sicilian toasted almonds 14% (equal to 8% of the total), apricot purée (glucose-fructose syrup, sugar; thickeners: pectin with added sodium pyrophosphate and sodium alginate; acidity regulators: citric acid and calcium citrate; preservative: potassium sorbate; colouring: paprika extract; aromas), chocolate chips (sugar, cocoa paste, cocoa butter, emulsified: soy lecithin, flavourings), multi-flower honey, coffee, tasteful alcohol, cinnamon.
May contain traces of: nuts, sesame, soy, peanuts, eggs.