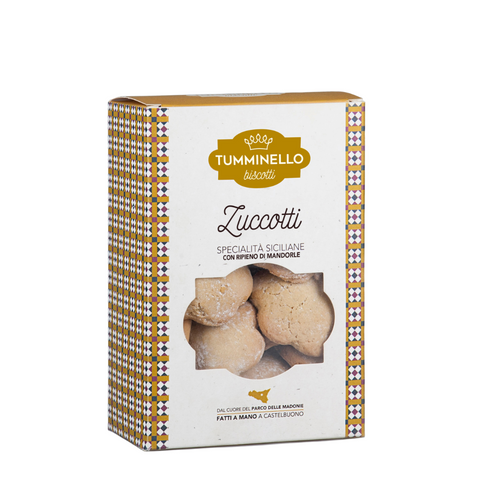 Tumminello
Tumminello - Zuccotti (320g)
The Zuccotti, typical sweets of Castelbuono town in Sicily, which can be enjoyed all year round, especially in autumn and winter months . With an exquisite filling of pumpkin, almonds, and cinnamon, they ensure a delicious flavor that brings to mind the flavors and aromas of the authentic Sicilian confectionery tradition. 
Each cookie is individually wrapped and presented as a small dessert.
The delicious shortcrust pastry and the filling release unique flavors that are impossible to resist. All our cookies are handcrafted and include only fresh ingredients.
Ingredients: 
Wheat
 flour, 
butter
, sugar, fresh 
eggs
, raising agents: disodium diphosphate, sodium bicarbonate; salt, flavorings. Filling 
ingredients: 
chopped Sicilian 
almonds
 29% (equal to 15% of the total), vegetable puree (pumpkin, brassica, oranges, mandarins, sugar, glucose syrup, salt, sodium bicarbonate, flavorings, preservative: sulfur dioxide), sugar, water, wildflower honey, sweetener: sorbitol, thickener: carob flour, maraschino liqueur, cinnamon, flavorings. 
May contain sesame, soy, almond, and pistachio.