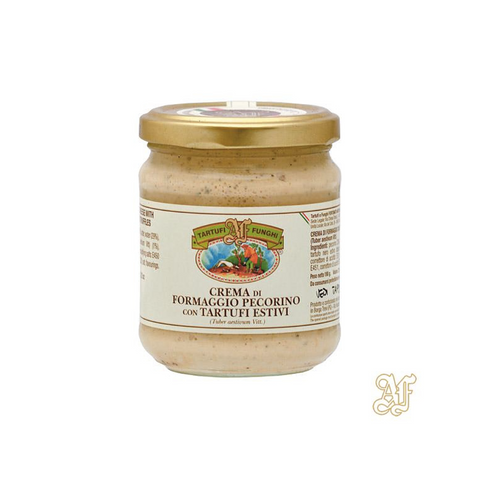 Fortunati Antonio
Fortunati A. - Truffle Cheese Cream Spread (180g)
The Pecorino Cheese Cream with Summer Truffles spread is made with pecorino cheese and summer truffles.
Pecorino is a very tasty cheese produced with sheep's milk which, during processing, naturally loses almost all of its lactose and is therefore edible even by those who are lactose intolerant.
The Summer Truffle (Tuber aestivum Vitt.) is so called for the period in which it grows and develops, from May to August. It has a pleasant and aromatic scent, a little nutty. 
Use it to flavor pasta, especially short-shaped pasta, to whisk in risotto, to stuff tortelli and gnocchi or to make delicious bruschetta and croutons. To enhance the flavor of the preparation, heat it to 40 °C. Suggested quantity: 20-25 gr per person.

Made in Italy.
Ingredients: Pecorino cheese (33%), butter, water (29%), Black Summer Truffle (Tuber aestivum Vitt.) 1%, acidity regulator: E331, melting salts: E450-E451, acidity regulator: E330, salt, flavorings.