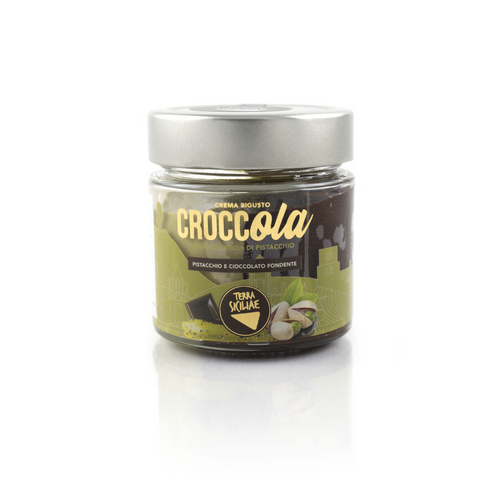 Croccola
Croccola - Pistacchio and dark chocolate spread (190g)
This double-flavored spreadable cream with pistachio and dark chocolate is delicious product made in Sicily. It's got smooth consistency with slight crunches inside.
Artisanal product with ingredients grown and harvested in Sicily, this spread is a delicious treat for breakfast to add to a croissant or a toast.
Made with Sicilian pistachios.
Thanks to the experience and dedication of the Terra Siciliae company, it is handcrafted with products grown and harvested in Sicily.  The combination of pistachio and dark chocolate presents a soft green and dark brown color well separated between the two and crunchy on the palate.
Ingredients
: Pistachio Cream:
Pistachio
30%, sugar, oils and non-hydrogenated vegetable fat (sunflower oil), fats (palm oil),
milk
skimmed powder 10%, whey
milk
powder, emulsifier (E322 lecithin
soy
), natural coloring: E141, flavors.
Dark chocolate cream with pistachio crunch: sugar, non-hydrogenated vegetable oils and fats (fats (palm), oils (sunflower rapeseed and corn and soy in variable proportions)) skimmed cocoa powder 15%, hazelnuts , pistachio crunch 5% (sugar, pistachio grains), skimmed milk powder, sugar, emulsifier (E322 soy lecithin ), natural vanilla flavoring. Contains: pistachio, hazelnuts, milk, soy, nuts.