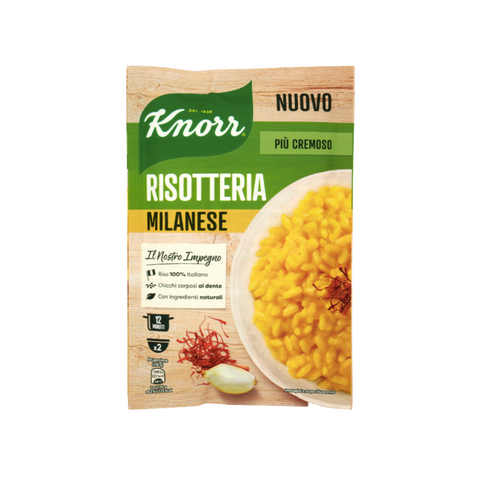 Italian Supermarkets
Knorr - Risotto Milanese (175g)
£4.00
£5.00
you save £1.00
A traditional creamy and velvety risotto, ready in only 15 minutes. Healthy and natural: prepared without using any artificial colors or preservatives. Easy to prepare: 1) Add the contents of the packet 1/2 liter of cold water, stirring until it starts to boil. 2) Cook on a medium heat four around 15 minutes, stirring occasionally until all the water is absorbed. 3) Finally you can add a knob of butter or a tablespoon of extra virgin olive oil and some grated Parmesan cheese for that extra creamy taste.
Made in Italy with the authentic Italian Risotto Rice. 

Ingredients: parboiled rice (88%), wheat flour, cooking salt, vegetable fat, lactose, onion (0.7%), yeast extract, melted cheese, sugar, extra virgin olive oil, turmeric, saffron (0.04%). May contain eggs, celery and mustard.