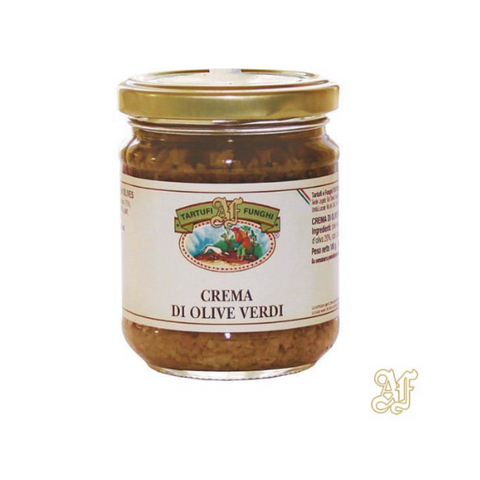 Fortunati Antonio
Fortunati A. - Green Olives Pate (180g)
Green Olives Pate is gluten free healthy meal made of Green Olives and Extra Virgin Olive Oil. Made with only genuine ingredients, without preservatives and dyes, it is ready to use on appetizers, first and second courses.
It can be spread on bruschetta, croutons and canapés; it can be used to dress pasta such as tagliatelle and penne, perhaps with garlic, anchovies and fresh tomatoes; it can be paired with meat main courses such as veal carpaccio; it can be used to make original recipes such as hard-boiled eggs with mayonnaise and green olive cream, savory pie with tomatoes, anchovies, olives and green olive cream or mashed potatoes enriched with green olive cream.
Made in Italy. 

Ingredients: Green olives 75%, extra virgin olive oil 20%, salt, corn starch, soy lecithin. Manufactured in establishment working almonds, cocoa, milk, eggs, white wine containing sulfur dioxide.