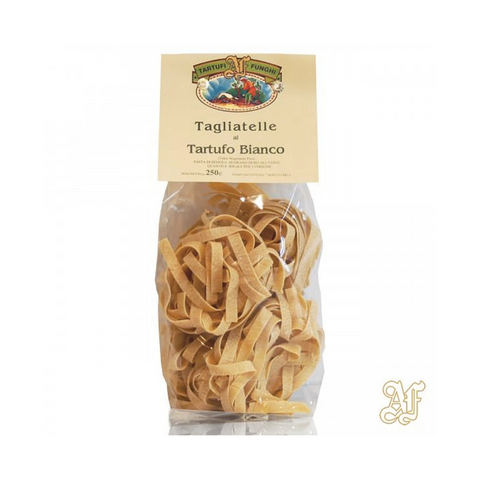 Fortunati Antonio
Fortunati A. - White Truffle Tagliatelle (250g)
White Truffle Tagliatelle are one of the most famous forms of Italian pasta: ours are made without additives and colorings. Try it combined with white truffle cream or any other product based on white or whitening ingredients.
Tagliatelle with White Truffles are made with wheat flour and enriched with bits of white truffles and a pinch of spices that enhances the flavour of the dish.
The White Truffle (Tuber magnatum Pico) is the most precious fungus and in ancient times it was considered the food "of tycoons", i.e.: rich gentlemen. It has an intense scent, capable of perfuming and embellishing dishes even when used in small quantities.
The high quality of the product and the simple elegance of the packaging make the Tagliatelle with White Truffles also an original and refined gift idea.
Made in Italy.

Ingredients: Durum wheat semolina, pasteurised eggs 20%, White Truffle (Tuber magnatum Pico) 0.1%, spices. May Contain Sesame and Soya. May contain traces of nuts.