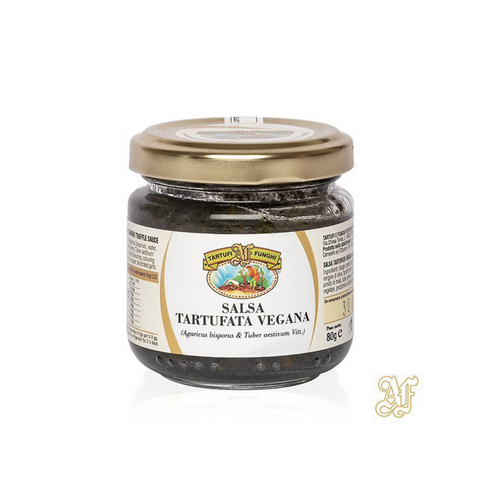 Fortunati Antonio
Fortunati A. - Vegan Truffle Sauce (80g)
Tasty and extremely versatile in the kitchen, the vegan truffle sauce is prepared using only Champignon mushrooms and Black Summer Truffle pieces.
Free of preservatives and industrial dyes (charcoal is used as a natural dye), this vegan sauce containing 8% truffle is perfect for seasoning first courses and making canapes and bruschetta even more delicious.
The vegan truffle sauce lends itself to many different types of preparations:
Perfect to spread on toasted bread, canapés, and croutons, for a delicious appetizer or a delicious aperitif, perhaps accompanied by a glass of Brunello di Montalcino.
Ideal as a condiment for important first courses such as tagliatelle or homemade fettuccine: just add a bit of cooking water to the sauce to make them reach the right degree of creaminess, and add a drizzle of raw extra virgin olive oil to the pasta after having served it, for a perfect result.
Added to the mixture of meatballs or soy burgers, the vegan truffle sauce will give these dishes an extra boost of taste. Try it with a side of cannellini beans (flavored with a teaspoon of sauce), and you will be conquered!
Made in Italy.
Storage
The vegan truffle sauce does not contain preservatives: once the jar has been opened, the sauce should be consumed as soon as possible: it is recommended to close the jar well and keep it in the refrigerator for a maximum of 3 days.
Ingredients: Summer Truffle in pieces (Tuber Aestivum Vitt.) 8%, cultivated mushrooms (agaricus bisporus), extra virgin olive oil, water, salt, corn starch, natural flavors, charcoal, dehydrated parsley, dehydrated garlic, chili.