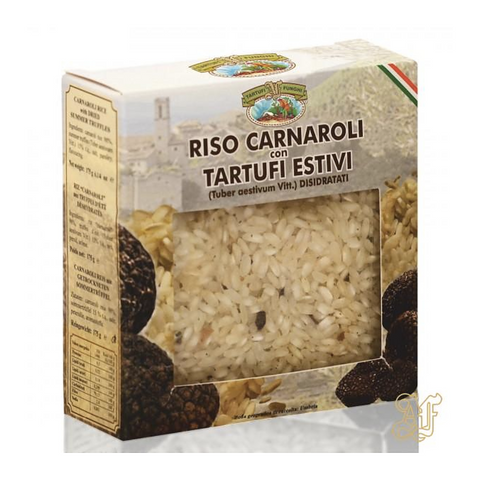 Fortunati Antonio
Fortunati A. - Truffle Risotto mix (175g/350g)
Our Black summer truffle risotto mix is a ready to use set containing all you need to prepare a delicious risotto in just 15 minutes! It is an incredible high quality product: 100% Italian Carnaroli Rice with bits of dried Truffles.
Carnaroli rice is high in starch content and, when cooked, have a creamy, saucelike consistency, it's almost impossible to overcook it. Trendy Italians, always on the lookout for the latest culinary craze, currently prefer Carnaroli because of its firm grain. 
Made in Italy.
A Truffle Risotto ready to cook: enjoy an outstanding first course, all you need to do is add butter or parmesan cheese according to taste. 
Recipes with this product: Truffle & Porcini Mushrooms Risotto
Ingredients: Carnaroli rice 98%, summer truffles (Tuber aestivum Vitt.) 1.5%, t.q., salt, parsley, flavouring. May Contain Sesame and Soy. May contain traces of Nuts.