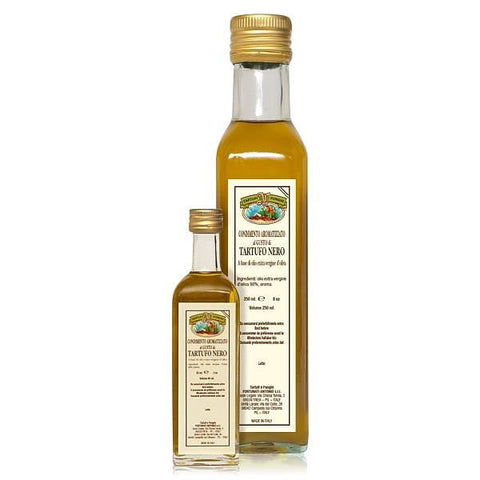 Fortunati Antonio
Black Truffle Extra Virgin Olive Oil
Our Black Truffle seasoning is made with 100% extra virgin olive oil and contains no colouring agents, preservatives, or gluten.
Try to dress a good fresh pasta (maybe tagliatelle or tagliolini) with the Black Truffle seasoning and slices of black Périgord truffle or black summer truffle. Or use it to enhance the flavour of bread, pizzas, rice, or ravioli, or pour a drizzle on the eggs to prepare a pasta carbonara.
Put it on the dinner table and let your guests enjoy dressing their meal.
The high quality of the ingredients and the simple elegance of the packaging make the Black Truffle Flavoured Dressing a fine gift idea.
How to use it
Just a teaspoon per person of our Black Truffle seasoning is enough to make your dishes delicious and fragrant.
Use the dressing directly on the prepared food, already served and preferably hot, this will ensure that it brings out the most of its features.
Ingredients and Allergens
98% extra virgin olive oil, herbs.
May Contain Sesame. May Contain Soya. May contain traces of Sesame and Soy. May contain traces of Nuts. 
Made in Italy.
Recipes with this product
Truffle & Porcini Mushrooms Risotto