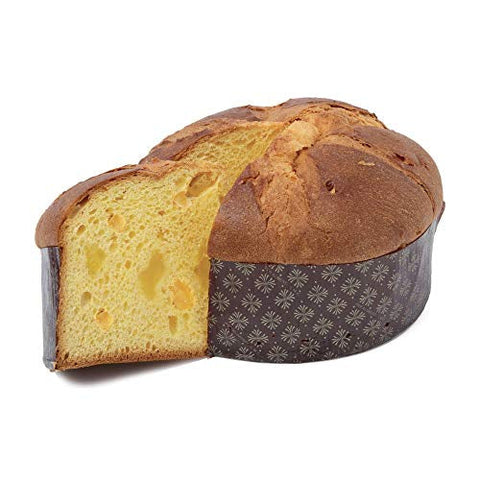 Chiostro di Saronno
Chiostro Di Saronno - Panettone with Limoncello (750g)
Chiostro Di Saronno Panettone with Limoncello is Hand wrapped Italian Christmas Cake.
The Chiostro di Saronno is an ancient Franciscan cloister located in the centre of the town of Saronno in Italy. It is also a range of delicious Italian specialities including panettone, cantuccini, baci, pandoro and more. There is guaranteed to be something for everyone.
Ingredients: Wheat Flour, Fresh Eggs, Butter (Milk), Filling Cream 13% (Sugar, Glucose Syrup, Whole Milk, Limoncello Liqueur 10% (Water, Sugar, Alcohol, Lemon Infusion), Water, Flavours, Jelly Agent Pectin, Preservative: Potassium Sorbate), Candied Lemon Peels Cubes and Paste (Lemon Peels, Glucose-Fructose Syrup, Sugar, Acidifying Citric Acid), Sugar, Fresh Egg Yolk, Milk, Natural Yeast (Wheat Flour), Emulsifiers Mono and Diglycerides of Fatty Acids, Glucose Syrup, Flavours, Cocoa Butter, Salt.