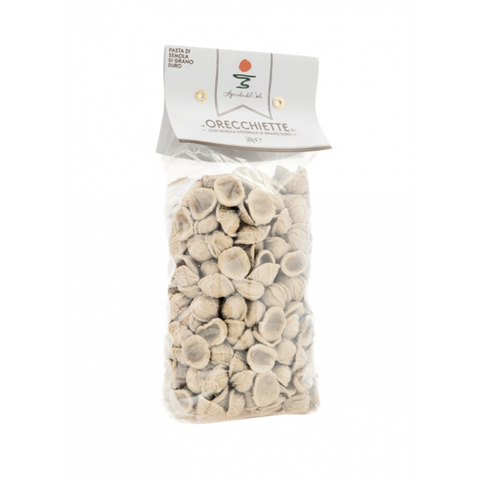 Agricola del Sole
Agricola del Sole - Wholemeal Orecchiette Pasta (500g)
Orecchiette pasta is a pillar of the Apulian culinary tradition. At Trendico we offer a very tasty and healthy version of this pasta, made with whole durum wheat semolina which is simply mixed with water. No eggs added to this pasta.

The name Orecchiette translates from Italian as 'small ears', which describes their form – small, curved shapes made using a butter knife then folded back over the thumb.

The slow drying preserves intact the organoleptic properties of pasta.

Made in Italy. 
Cooking time: 15 minutes. We recommend following the boiling process carefully, in order to optimally cook the pasta.
Ingredients: Durum WHEAT semolina, wholemeal durum WHEAT semolina, water.